Uninstalling ePay Charge Retail Software
Should you experience problems you can reset or uninstall and reinstall your retail software. You will need to make sure you can see the "hidden folders" on your computer.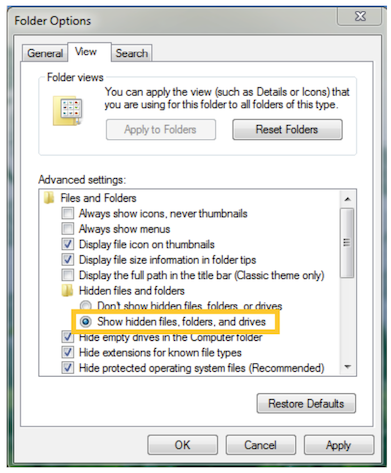 Click -> Start Menu
Control Panel ->Appearance and Personalization
Folder Options -> View
Advanced Settings -> select "Show hidden files and folders"
Click Apply -> click OK (if you don't see the Advanced Settings Button, reference the list of options)
On your computer:
Click -> Start Menu
Computer -> Local Disk (C:)
Users -> (Your User Account) -> AppData
Local -> Newtek Gateway (right click and delete this folder)
From your start menu:
Click -> Control Panel -> Programs
Programs and Features -> Uninstall a program
ePay Charge (right click and select "Uninstall/Change")
"Remove the application from this Computer" -> select "OK"
Now, the ePay Charge retail has been completely removed from your computer.